Automatic Bundling Equipment
Our Automatic Bundling Equipment is engineered to handle various types of wooden cutlery, including spoons, forks, and knives, providing a versatile packaging solution for your business. With its high-speed performance and precision, this equipment ensures a seamless workflow and maximizes productivity.

Featuring advanced automation, our bundling equipment eliminates the need for manual labor, saving you valuable time and resources. It effortlessly bundles your wooden cutlery into neat, uniform packages, reducing the risk of damage during transit. The secure bundling not only enhances the presentation of your products but also minimizes the chances of items getting lost or separated.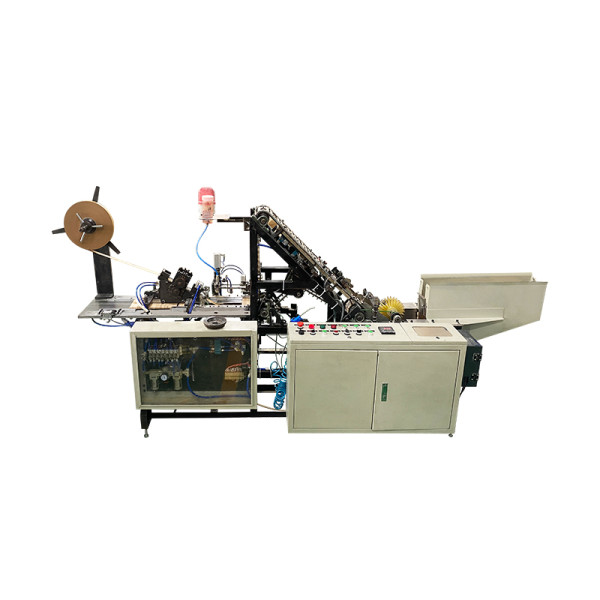 Bundling Machine for Wooden Cutlery adopts a high-speed counting chip for accurate counting, easy adjustment, secure binding.
Favorites
Choose Automatic Bundling Equipment from SAE for Your Wooden Cutlery Production
Each bundling machine in our collection is meticulously crafted to meet the specific needs of the wooden cutlery industry. From forks and spoons to knives and stirrers, our equipment can handle various types of cutlery with precision and speed.
With our automatic bundling equipment, you can expect seamless operation, minimal downtime, and increased output. The machines are equipped with state-of-the-art technology, allowing for precise and secure bundling of wooden cutlery. By automating this process, you'll not only save valuable time but also reduce the risk of errors and inconsistencies.
We understand the importance of maintaining the quality of your wooden cutlery. That's why our equipment is designed to handle delicate materials with care, ensuring that each bundle remains intact and presentable. Impress your customers with neatly packaged cutlery that reflects your commitment to excellence.
Investing in our automatic bundling equipment will not only optimize your packaging workflow but also enhance your overall business efficiency. Experience improved productivity, reduced labor costs, and increased customer satisfaction as you effortlessly bundle your wooden cutlery products.
How Automatic Bundling Equipment Works
With our automatic bundling equipment for wooden cutlery, revolutionize your packaging process and witness enhanced efficiency, speed, and precision. Here's how it works:
Automatic Feeding: The equipment seamlessly feeds wooden cutlery items onto the conveyor belt, ensuring a continuous supply for bundling.
Precise Bundling: Our advanced technology precisely bundles the wooden cutlery items together, providing secure and neatly packaged bundles.
Adjustable Configuration: The equipment offers flexibility in bundle sizes, allowing you to adjust the configuration based on your specific packaging requirements.
Intuitive Controls: With user-friendly controls, operators can easily monitor and adjust settings for optimal performance.
Seamless Integration: Our equipment seamlessly integrates into your existing production line, minimizing disruption and maximizing efficiency.
Experience the future of packaging with our automatic bundling equipment. Enjoy the benefits of increased productivity, reduced labor costs, and consistent packaging quality.
Our Automatic Binding Equipment Is Suitable for a Wide Range of Wooden Cutlery
Our automatic bundling equipment for wooden cutlery supports a comprehensive range of items, ensuring versatility and adaptability to your specific needs. Whether you produce disposable wooden spoons, forks, knives, or a combination of these, our equipment has you covered. With our cutting-edge technology, you can bundle various sizes and shapes of wooden cutlery efficiently and effortlessly. Experience the convenience and flexibility our equipment offers as it handles your packaging requirements with precision and speed.
Automatic Bundling Equipment FAQ
Why should I choose automatic bundling equipment for wooden cutlery?
Automatic bundling equipment offers several advantages for wooden cutlery manufacturers. It improves productivity, reduces labor costs, ensures consistent bundling, and streamlines the production process.
Can your automatic bundling equipment handle different sizes of wooden cutlery?
Yes, our automatic bundling equipment is versatile and can handle various sizes and types of wooden cutlery, including spoons, forks, and knives. We can customize the bundling solutions to meet your specific needs.
How does automatic bundling equipment contribute to cost savings?
By automating the bundling process, labor costs associated with manual packaging are significantly reduced. Additionally, optimal material usage minimizes waste, resulting in lower packaging expenses.
Do you want to quickly know the product quotation you need?
Fast Quote
Fast Delivery
3 Years Warranty
Complete Solution